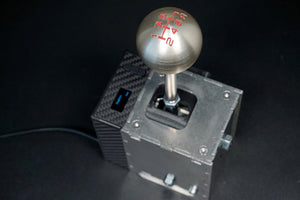 Bash Pro Active H-Shifter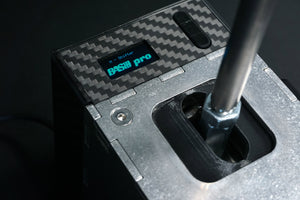 Bash Pro Active H-Shifter
Bash Pro Active H-Shifter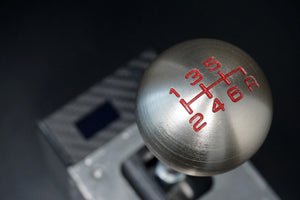 Bash Pro Active H-Shifter
The Bash Pro Active H-Shifter is the first active sim racing shifter using a gate locking feature powered by real time in-game telemetry data.
Above the standard features an H-shifter offers, the Bash Pro features tactile feedback when a gear is engaged. Whenever gear engagement conditions are not met, the gate remains in a closed state, which physically prevents you from moving the gearstick into gear. Upon every gear change, a servo motor actuates a trigger mechanism that releases the gate lock in the matter of a few milliseconds.
Using the OLED screen on the Bash Pro or our custom Simhub plugin, you can easily switch between H-Dogbox, H-Sync and Sequential Electronic shifting.
Training Modes for different gear ratios
The Bash Pro features a training mode to memorize gear ratios for each car in the different games.
The Bash Pro will change into Truck mode on starting Euro Truck Simulator or American Truck Simulator. Depending on the type of gearbox selected in the game, the Shifter will not allow moving the stick into non-existing gear positions. 'Floating gears' or shifting without clutch is possible when 'Advanced' H-Shifter mode is selected in the game options menu.
The second batch has sold out a lot faster than we anticipated. Please sign up to the waiting list to get notified as soon as the thrid batch production starts shipping.
If you are ordering from within the EU, you will not need to pay for import duties as we are a registered IOSS company ( IM3720013394 ) if the total amount for your order including shipping fees is below 150 Euros. We ship from the United Kingdom and for exported items we do not charge any value added tax but are required by law to supply a commercial invoice declaring the value of your order. On import to your country, this invoice is used to calculate any import tax and duties.