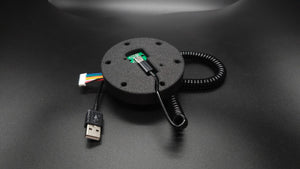 MVH Direct Drive PC Adapter
With the direct drive adapter you can connect any of our series 2 wheels to a direct drive system providing a standard 70mm hole pattern. The adapter plugs in via the provided coiled cable to any PC USB port.
With Series Two we created a wheel that is fully compatible with the Logitech G29/G920 and G923, while also being compatible with Fanatec (DD1, DD2, CSL DD, DD Pro) Thrustmaster (T300, T500, TX, TS-XW, T-GT, T-GT II, and TS-PC, bases that do not require official steering wheel authentication), Simucube, Simagic, Moza (R16, R9, R5) and any other direct drive system that will accept third party PC based wheels and accepts a 70mm standard 6 hole wheel pattern. We achieved this by integrating our own electronics which when connected to the Logitech G series wheelbase, emulates the Logitech buttons and D-Pad. But when you wish to take the series 2 wheel onto a direct drive system for PC, you need this adapter as it will allow all the buttons, dials and telemetry to be recognized in Windows as a game controller. The Direct Drive PC adapter will work with all our Series 2 wheels, no matter if it is a G29, G920 or G923 version.
The direct drive adapter comes with a full year of no-questions-asked-warranty and a 2 year extended EU warranty.