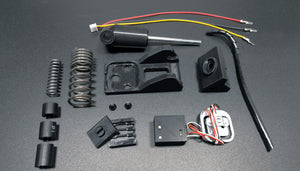 MVH Load Cell for Logitech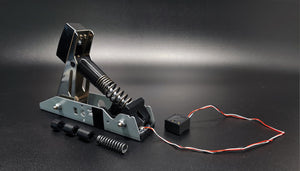 MVH Load Cell for Logitech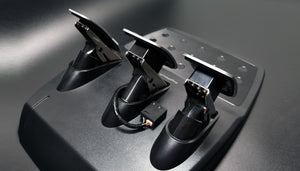 MVH Load Cell for Logitech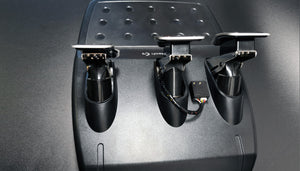 MVH Load Cell for Logitech
The MVH Load Cell for Logitech is a true load cell that measures the pressure applied to the brake pedal and replaces the standard potentiometer in the Logitech pedal set. The outstanding feature is that it is console compatible and works with games such as Gran Turismo 7 (Playstation) and many Xbox titles, as well as PC.
The holy grail for any sim racer is the brake pedal. Nothing will improve your lap times more than being able to get the right pressure on the brakes and being able to trail brake. Just a simple change of the linear spring to our very popular variable pitch spring in the Logitech brake pedal can lead to big improvements but this still relies on the distance the pedal has been moved and not the pressure that has been applied. However, it is very hard to judge the distance you push a pedal with your foot vs. judging the force you need to push it. Hence all professional pedal solutions rely on a load cell and not a potentiometer (linear or rotational makes no difference).
Console (PS4/5 and Xbox), PC and adjustability
Using our custom electronics our load cell does not invert the signal and therefore works in all games such as Gran Turismo and Forza. It also allows for adjustment in brake pressure with different inserts while both deadzone and saturation can be adjusted in hardware. This allows keeping the whole range of the pedal travel. Naturally on PC you can adjust everything the same way as well as in game.
The MVH load cell has been in testing for months with our own pro sim racing team and has been 100 percent reliable. All parts are extremely durable, all load bearing parts are made out of custom cut steel.
The Load Cell kit includes everything you need, as well as our progressive spring. You do not need anything else.
The MVH load cell comes with a full year of no-questions-asked-warranty.
This modification can be done without any soldering or drilling and is fully reversible, so as not to void your warranty. Follow our calibration manual or videos to adjust the pedal to your setup. If you are using the updated, smart Load Cell (released 1st August 2023) use this manual for the calibration process.
Please note the MVH load cell does not include the Logitech pedal set.
If you have any questions please join us on our Discord Server where you can talk to the developers directly.
Next restock is planned for end of Jan. 2024