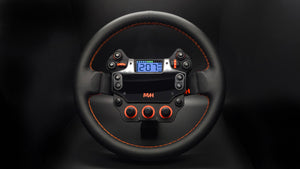 GTS Series 2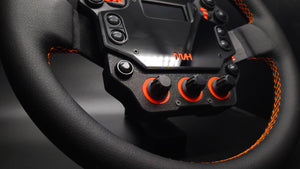 GTS Series 2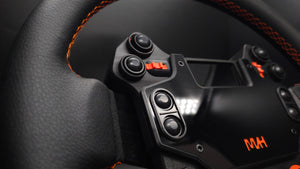 GTS Series 2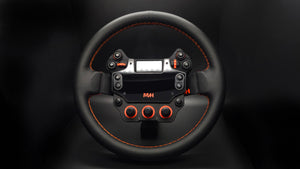 GTS Series 2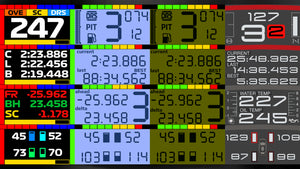 Telemetry pages of the Display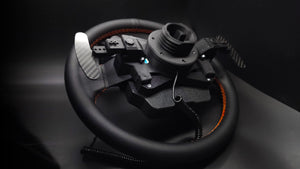 GTS Series 2 Thrustmaster version
The GTS Series 2 is a full size 320mm round wheel with integrated telemetry display, 22 buttons, carbon fibre magnetic paddle shifters and full console and PC compatibility.
We want to make sim racing affordable without locking you into an ecosystem. So we designed our Series Two wheels to bridge the gap from entry level sim racing to pro level sim racing by making it possible to use the same wheel on an entry level wheelbase such as the Logitech G29/G920/G923 series and then seamlessly, connect it to a Direct Drive wheelbase from other sim racing brands.
Compatibility: Fanatec / Thrustmaster / Moza / Simucube / Simagic / Asetek / etc
With Series Two we created a wheel that is fully compatible with the Logitech G29/G920 and G923, while also being compatible with Fanatec (DD1, DD2, CSL DD, DD Pro), Thrustmaster, Simucube, Simagic, Moza (R16, R9, R5) and any other direct drive system that will accept third party PC based wheels and accepts a 70mm standard 6 hole wheel pattern (note that for Fanatec you might require the Podium Hub). We achieved this by integrating our own electronics which when connected to the Logitech G series wheelbase, emulates the Logitech buttons and D-Pad. When connected to a PC via our Direct Drive PC adapter with the supplied coiled cable, it becomes a USB device that is recognized as a Windows game controller. The Direct Drive adapter is not included.
For Thrustmaster users who wish to connect the GTS in PC mode only, we offer the Thrustmaster S2 adapter which allows you to use the F1L on T300, T500, TX, TS-XW, T-GT, T-GT II, and TS-PC, bases that do not require official steering wheel authentication. Choose the Direct Drive Systems GTS and then add the Thrustmaster S2 adapter here. 
The Series Two is compatible with our quick release system but it is not a requirement and it is not included. Should you wish to use it with our quick release, add the S2 adapter as well as the motor mount to your order. For non quick release users, the Series Two ships with a permanent connector which directly mounts the wheel onto your Logitech G29/G920/G923.  If you prefer to use the series 2 as your permanent replacement to the stock Logitech round wheel you will not need anything else.
The Telemetry display is fully compatible with any game (for example Gran Turismo 7, F1, etc). that provides telemetry data via Wifi. It features the same game support as our popular stand alone Telemetry Display as well as free over the air updates and support. Due to the energy efficient design, the integrated display will not need any cable when used on a Logitech G29/G920/G923. You can download the manual for the telemetry here.
You can download the compatibility list of games here. Rest assured we will be adding more games and options with future updates.
Driver download for PC (Simhub plugin)
The aircraft grade alloy used for the super light two spoke 320mm rim is hand wrapped and stitched with Alcantara grade artificial leather. The rim features a standard 70mm hole pattern making it usable on most Direct Drive systems. All parts on the wheel can be serviced and swapped out as this is not a glued construction but fully assembled and built by us in the UK.
The Series Two comes with a full year of no-questions-asked-warranty.
If you have any questions please hop onto our Discord where the engineering team is happy to help you out.
If you are ordering from within the EU, you will not need to pay for import duties as we are a registered IOSS company ( IM3720013394 ) if the total amount for your order including shipping fees is below 150 Euros. We ship from the United Kingdom and for exported items we do not charge any value added tax but are required by law to supply a commercial invoice declaring the value of your order. On import to your country, this invoice is used to calculate any import tax and duties.